Advertisement
Membership
Login
ACCU Buttons
ACCU Conference 2006

Wednesday 19 April to Saturday 22 April 2006, Oxford
The ACCU Conference 2006 is sponsored by:




Additional support from:


The ACCU Conference 2006 is organized by:
Conference Chair:
Ewan Milne
Conference Committee:
Giovanni Asproni
Francis Glassborow
Kevlin Henney
Allan Kelly
Alan Lenton
Andy Robinson

Event Manager:

Archer Yates Associates Ltd
Threshers Yard,West Street
Kingham, Oxon. OX7 6YF
Phone: +44 (0) 1608 659900
Fax: +44 (0) 1608 659911
Email: julie at archer-yates.co.uk
The ACCU Conference 2006 will bring software professionals the chance to hear about the latest ideas in software development. The excellent technical programme has an emphasis on C++, Agile methods and Python, while also addressing the wider development environment.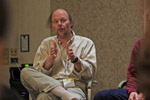 We have a great event for you to enjoy and participate in. And participation is certainly encouraged: one of the key features which make the ACCU Conference one of the most enjoyable events around is the amazing atmosphere generated by all of you attending. As Herb Sutter comments:
"ACCU in particular is always a blast because the audience is always highly interactive and supercharged"
Herb - acclaimed author and chair of the ISO C++ standards committee - is one of our keynote speakers, alongside creator of Python Guido van Rossum. Also included in the programme, Michael Feathers shares practical experience in Working Effectively with Legacy Code, and as part of our pre-conference day on 18th April Jutta Eckstein and Nico Josuttis deliver a full-day tutorial on Agile processes and practises.
This year's event features full-day tracks devoted to the evolution of C++, dynamic languages such as Ruby, Javascript and Groovy, and experiences and implications of distributed collaboration. The Evolution of C++ track looks at plans for the next version of C++ (code named C++0x and currently aimed at final release in 2009) There will be a report on the changes and additions that have already been agreed on, and in addition a presentation on the subject of Concepts. The collaboration track looks at the problems and possible solutions for teams working in a distributed environment, with a strong focus on case studies. And we are again hosting the UK Python Conference, featuring over two days a truly outstanding array of Python talent.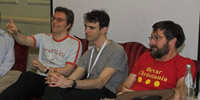 The programme has been designed to facilitate dialogue between developers, analysts, planners and managers. It covers a wide range of subjects including development process, design, analysis and patterns as well as softer aspects such as team building, communication and leadership. The world class line-up of speakers includes many well known industry figures, writers and practicing developers from the front line of software development.
19-22 April 2006 Oxford UK -- It's the place to be!