Advertisement
Membership
Login
ACCU Buttons
ACCU Conference 2008
Sponsored by:










Organized by:
Conference Chair:
Giovanni Asproni
Conference Committee:
Aaron Craigie
Francis Glassborow
Alan Lenton
Ewan Milne
Tim Penhey

Event Manager:

Archer Yates Associates Ltd
Threshers Yard, West Street
Kingham, Oxon. OX7 6YF
Phone: +44 (0) 1608 659900
Fax: +44 (0) 1608 659911
Email: julie at archer-yates.co.uk

The slides of the sessions can be found here
Wednesday 2 April to Saturday 5 April 2008, Oxford
The 2008 event will be yet another exciting conference in the best ACCU tradition. The keynote speakers will be Tom Gilb, recognised authority in software project management, Andrei Alexandrescu, worldwide authority on C++, Simon Peyton-Jones, inventor of Haskell, and Roger Orr member of the BSI and ISO C++ panels and well known ACCU member.
This year the conference will feature – along with the usual tracks on development process, C++, and dynamic languages – a special track on functional programming, with sessions presented by, among the others, Joe Armstrong, inventor of Erlang and author of "Programming Erlang", and Simon Peyton-Jones.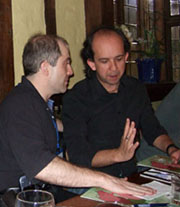 The programme has been designed to facilitate dialogue between developers, analysts, planners and managers. It covers a wide range of subjects including development process, software analysis and design, and patterns as well as softer aspects such as team building, communication and leadership. The world class line-up of speakers includes, in addition to the ones listed above, many well known industry figures, writers and practicing developers from the front line of software development, such as James Coplien, John Lakos, Jutta Eckstein, Nico Josuttis, Kevlin Henney and many others.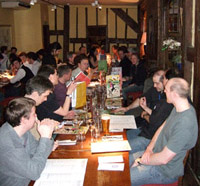 We believe this conference is a great event for you to participate in. In fact, one of the key features which makes the ACCU conference one of the most enjoyable events around is the amazing atmosphere generated by all the attendees.
Finally, also this year there will be the possibility of attending some very interesting pre-conference tutorials at a very special price for the conference attendees only.
They will be on Tuesday 1st of April. This year's subjects will be "EVO: The Evolutionary Project Management Method" by Tom Gilb, "Fun with Erlang" by Joe Armstrong, and "SOA in Practice" by Nicolai Josuttis.
Check-out the Pre-conference page for more information.
2-5 April 2008 Oxford UK -- Don't miss it.