Advertisement
Membership
Login
ACCU Buttons
ACCU / Bletchley Park Autumn Lectures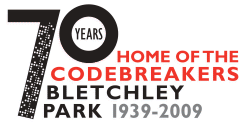 CODEBREAKING, CRYPTOGRAPHY AND PROGRAMMING
HEAVYWEIGHT SPEAKER LINE-UP ANNOUNCED FOR THIRD ANNUAL ACCU CONFERENCE
Saturday 12 November 2011
tickets available now: ALL PROCEEDS TO the BLETCHLEY PARK TRUST AND THE NATIONAL MUSEUM OF COMPUTING
The Bletchley Park Trust is delighted to announce that the keynote speaker for the Annual ACCU Conference 2011 will be prestigious 2006 Turing Award winner, Dr Frances Allen. Dr Allen will be giving away the secrets behind the codebreaking language and system she developed for the National Security Agency in the 1950's and 1960's.
Amongst the other distinguished speakers is world-renowned cryptography expert, Professor Fred Piper who will be discussing how cryptography has changed since 1945. Eminent computing veteran and Bletchley Park authority Dr Brian Oakley will be talking about language, codebreaking and Turing's algorithmic approach to it. Dr David Hartley, distinguished computer scientist, has a talk entitled "CPL – The Great Grandfather of C".
Last year's speakers were Bruce Schneier, Whitfield Diffie, Andy Clark and David Kahn and raised badly-needed funds for the Bletchley Park Trust and The National Museum of Computing.
Ticket Prices:
ACCU Member: £85
ACCU Non-Member: £100
Student: £85

The delegate fees include the following:
Full day of lectures at Bletchley Park, from guests speakers
Sandwich Lunch and Refreshments throughout the day
Tour of Bletchley Park
Please note that the delegates fees are VAT exempt.
To full details and to register for this event please visit http://www.regonline.co.uk/builder/site/default.aspx?EventID=990848
Contact Details
Tel: +44 (0)1608 659900
Email: accu-bletchley (at) archer-yates.co.uk
Additional Editors' Information
Cost of the Annual Season Ticket is:
| | |
| --- | --- |
| | Prices |
| Adults: | £12.00 |
| Concessions: (Over 60's and students with   valid ID.) | £10.00 |
| Children 12 to 16: | £6.00 |
| Children under 12:  (with friends and family only.   Groups of children with clubs, such as Cub Scouts, should contact us in advance) | Free of  Charge |
| Family Ticket:  (Two adults + Two children aged 12 to 16) | £26.00 |
Tickets include a guided tour (subject to availability) and/or the use of an audio guide. On-site parking is £3 per car.
The National Museum of Computing
The cost of admission to the Colossus and Tunny galleries;- Adults £2, Children (13 to 16) and Concessions (over 60s and students with a valid ID card) £1, children aged 12 and under will be free.  This is NOT an annual season ticket but a one-day admission pass.
When the rest of TNMOC is open on Thursdays and Saturdays, a visitor can upgrade their £2 admission by paying an additional £3 to visit the museum at the TNMOC pay booth. 
Bletchley Park is open every day except Christmas Eve, Christmas Day, Boxing Day and New Years Day:
1 March to 31 October – 9.30 am to 5.00pm (weekdays and weekends)
1st November to 28 February – 9.30 am to 4.00pm (weekdays and weekends.)
Photographs are available as jpegs on request
Media contacts
Claire Urwin, Events and Publicity Manager, Bletchley Park Trust, 01908 272 655, curwin@bletchleypark.org.uk
Caroline Murdoch, Redworks PR, 01869 810 443, caroline@redworks.co.uk.